MonsGeek x Akko acrylic 16-key switch tester with dust-proof cover.
With a wide range of different switches including tactile and linear and clicky keyswitches from 3 different brands for users to test at minimal cost.
Be aware! Some switches may come in different versions in different batches.
[Linear Switches]
Akko CS Wine Red
Akko CS Matcha Green
Akko V3 Cream Yellow
Akko CS Crystal
Akko CS Crystal Blue (or Gateron White Lubed)
Akko CS Jelly Black
Akko CS Silver
Cherry MX Red (or Cherry MX RGB Red)
Akko x TTC Demon
[Tactile Switches]
Akko CS Lavender Purple
Akko CS Jelly Purple
Akko CS Wine White
Akko V3 Cream Blue
[Clicky Switches]
Akko Blue
[Silent Switches]
Cherry MX RGB Silent Black
TTC Silent Bluish White (or Gateron Orange Lubed)
Out of stock
Join Waitlist
We will inform you when the product arrives in stock. Please leave your valid email address below.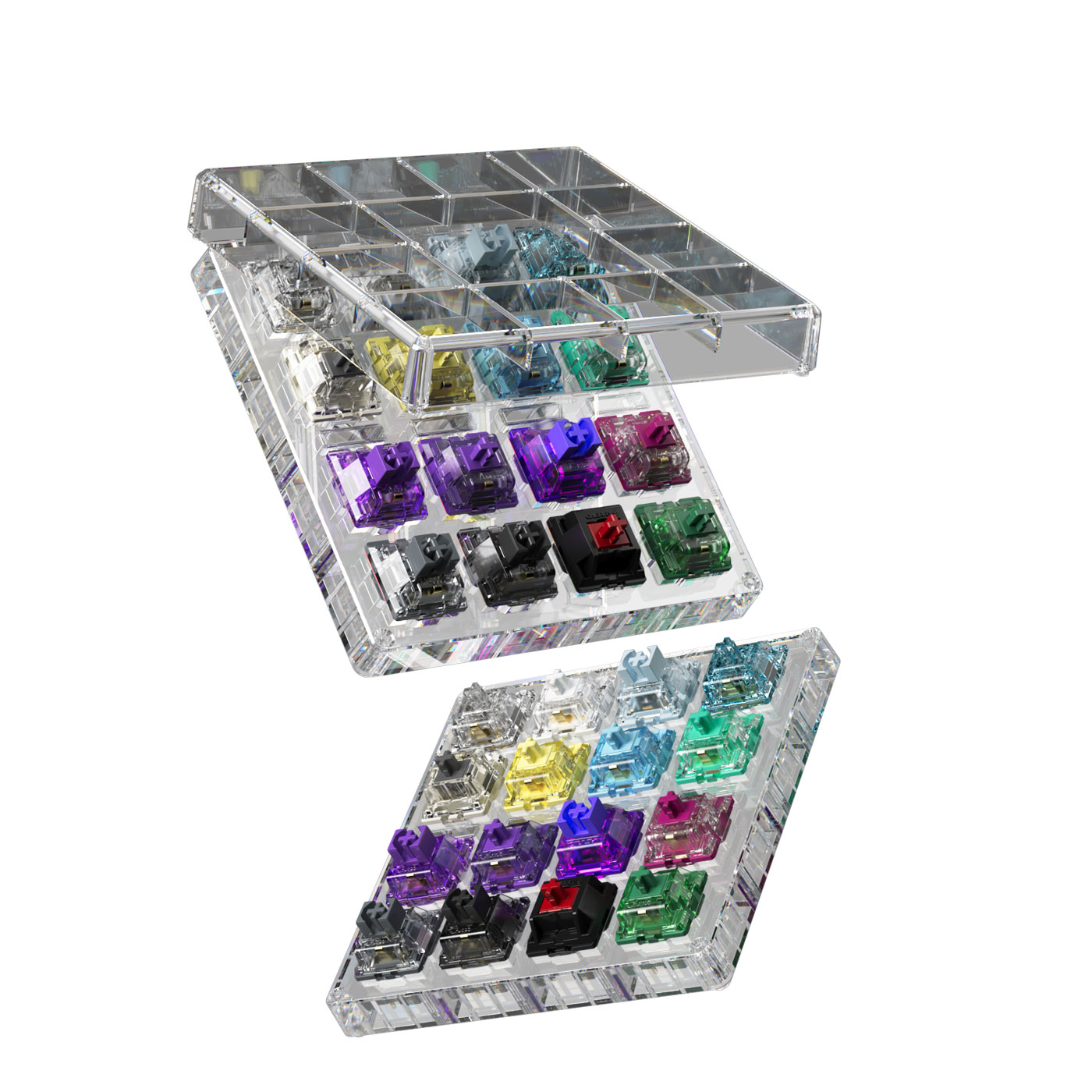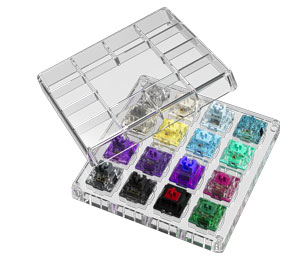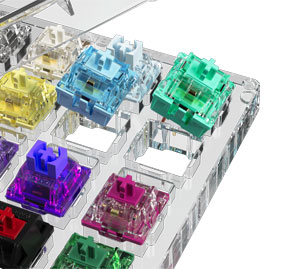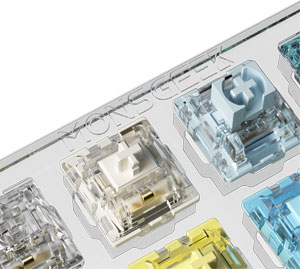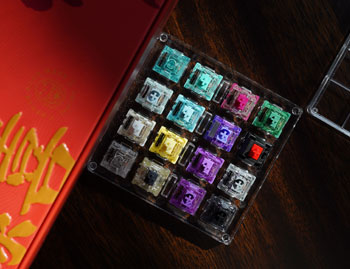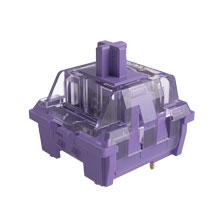 Type: Tactile
Operating Force: 36gf ± 5gf
Total Travel: 4.0 ± 0.5mm
Pre-Travel: 1.9 ± 0.3mm
Tactile Position: 0.5 ± 0.3mm
Tactile Force: 50gf ±5gf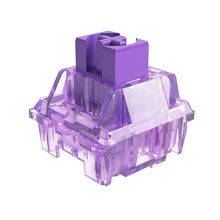 Type: Tactile
Operating Force: 40gf ± 5gf
Total Travel: 4.0 – 0.5mm
Pre-Travel: 2.0 ± 0.3mm
Tactile Position: 0.5 ± 0.3mm
Tactile Force: 56gf ±5gf
Type: Tactile
Operating force: 36gf ± 5gf
Total Travel: 4.0 – 0.5mm
Pre-Travel: 2.0 ± 0.3mm
Tactile Position: 0.5 ± 0.3mm
Tactile Force: 55gf ±5gf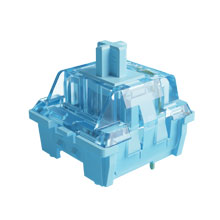 Type: Tactile
Operating force: 38gf ± 5gf
Total Travel: 3.5 ± 0.3mm
Pre-Travel: 2.0 ± 0.3mm
Tactile Position: 0.5 ± 0.3mm
Tactile Force: 53gf ±5gf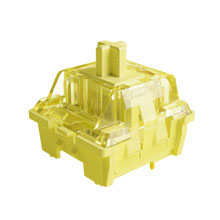 Type: Linear
Operating Force: 50gf ± 5gf
End Force: 58gf ± 5gf
Total Travel: 3.5±0.3mm
Pre-Travel: 1.9±0.3mm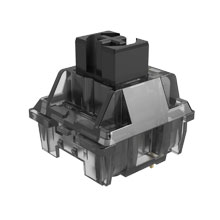 Type: Linear
Operating Force: 50gf ± 5gf
End Force: 60gf ± 5gf
Total Travel: 4.0 ± 0.3mm
Pre-Travel: 1.9 ± 0.3mm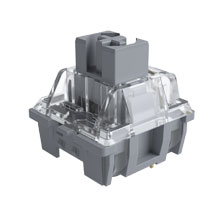 Type: Linear
Operating Force: 43gf ± 5gf
End Force: 48gf ± 5gf
Total Travel: 3.0 ± 0.3mm
Pre-Travel: 1.0 ± 0.5mm
Type: Linear
Operating Force: 43gf ± 5gf
End Force: 53gf ± 5gf
Total Travel: 4.0 – 0.5mm
Pre-Travel: 1.9 ± 0.3mm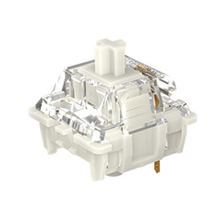 Type: Linear
Operating Force: 38gf ± 5gf
End Force: 45gf ± 5gf
Total Travel: 4.0 – 0.4mm
Pre-Travel: 2.0 ± 0.6mm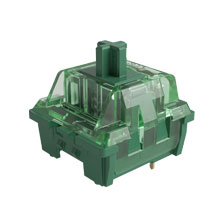 Type: Linear
Operating Force: 50gf ± 5gf
End Force: 63gf ± 5gf
Total Travel: 4.0 – 0.5mm
Pre-Travel: 1.9 ± 0.3mm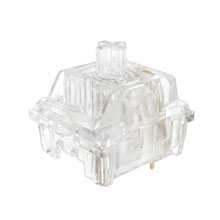 Type: Linear
Operating Force: 43gf ± 5gf
End Force: 50gf ± 5gf
Total Travel: 4.0-0.5mm
Pre-Travel: 1.6±0.3mm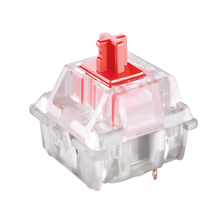 Type: Linear
Operating Force: 45gf ± 5gf
End Force: N/A
Total Travel: 4.0 mm
Pre-Travel: 2.0mm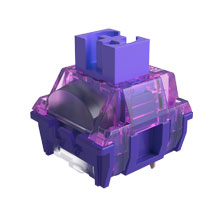 Type: Linear
Operating Force: 50gf
End Force: 63.5gf
Total Travel: 4.0 ± 0.4mm
Pre-Travel: 2.0 ± 0.4mm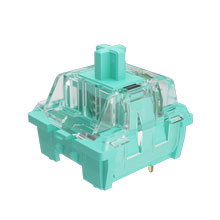 Type: Clicky
Operating force: 50gf ± 5gf
Total Travel: 4.0 – 0.5mm
Pre-Travel: 1.9 ± 0.3mm
Tactile Position: 1.5 ± 0.3mm
Tactile Force: 60gf ±5gf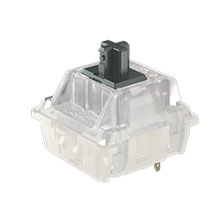 Type: Linear
Operating Force: 60gf ± 15gf
Total Travel: 3.7 – 0.4mm
Pre-Travel: 1.9 ± 0.6mm
Tactile Position: /
Tactile Force: /
Cherry MX RGB Silent Black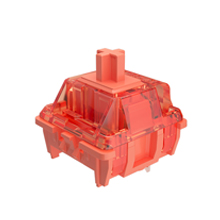 Type: Tactile
End Force: 45gf ± 15gf
Total Travel: 4.0 – 0.4mm
Pre-Travel: 2.0 ± 0.6mm
Tactile Position:1.25mm
Tactile Force: 55gf ±15gf