Frequently Asked Questions
"No DFU capable USB device available", "Flash button doesn't turn black", or "No Driver "error when using the QMK toolbox. (only for QMK version)
---
The "No DFU capable USB device available" error commonly occurs when attempting to flash firmware using the QMK version. This error suggests that the file required for the driver installation might not have been installed properly. To troubleshoot and resolve this issue, please follow these steps:
Re-install the signed QMK toolbox: Signed QMK Toolbox.
Run the installation: Once the download is complete, run the QMK Toolbox installation file (.exe) and follow the on-screen instructions. During the installation process, make sure to press "Yes" when prompted to install the driver. If there are no driver installations appearing on the screen, you may need to install the Driver yourself in the Tool-install driver as below.
Allow complete driver installation: It is crucial to be patient and wait until the driver installation is fully completed. Interrupting or closing the installation prematurely can lead to the "No DFU capable USB device available" error.
Retry firmware flashing: After the driver installation is finished, attempt to flash the firmware again using QMK Toolbox. You should now be able to proceed without encountering the error.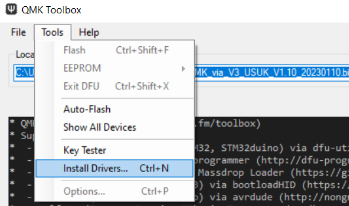 If you continue to experience issues or have further questions, you need to install these drivers in order for QMK to detect the keyboard:https://github.com/WestberryTech/wb32-dfu-updater/tree/master/driver.