My QMK version M1 keyboard cannot be found by VIA. What should I do?
If you confirm that your keyboard is the QMK/VIA version, please try the following steps:
Update VIA: Download the latest version of VIA from this link: VIA Releases. Install the latest VIA version and check if it detects your keyboard.
Currently, our international VIA-supported models do not have QMK support out of the box. However, you can manually load the .JSON file through the Design tab in VIA to have your keyboard detected.
For the MonsGeek M1 keyboard, please use the following links:
MonsGeek M1 .JSON file for VIA: Link (Please read the instructions before use, as this file is a V2 definition .JSON. Make sure you have toggled to use V2 definitions as below before using this file.)If you cannot find the load button, make sure you have opened the Design tab as shown below.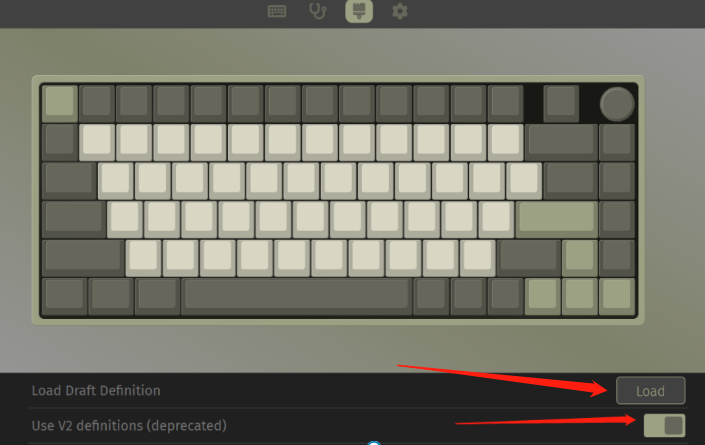 Firmware Upgrade from V2 to V3 definitions: Follow the steps outlined in the guide below.
QMK Toolbox: Link
Once you have successfully upgraded the firmware to V3, you can use the V3 .JSON file for the MonsGeek M1 without needing to toggle V2 definitions on. Here is the link: Link
Load V3 JSON File: After updating the firmware and installing the drivers, load the corresponding V3 JSON file for your M1 QMK keyboard. Ensure that the "Use V2 definitions" option is turned off when loading the V3 JSON file.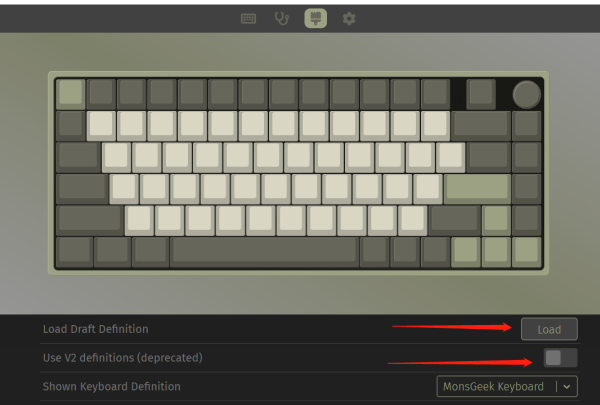 ​
​